Welcome To Topeka, Kansas!
Topeka is the capitol city of Kansas and located within Shawnee County in northeast Kansas. It has a population of 126,587 people according to the 2020 census, which makes it the fifth largest city in Kansas. In our opinion, that makes Topeka the best city to live in. It has a lot to do for recreation but it is not too big. The city located along the Kansas River in the rolling hills of northeast Kansas just east of the beautiful Flint Hills.
Brief History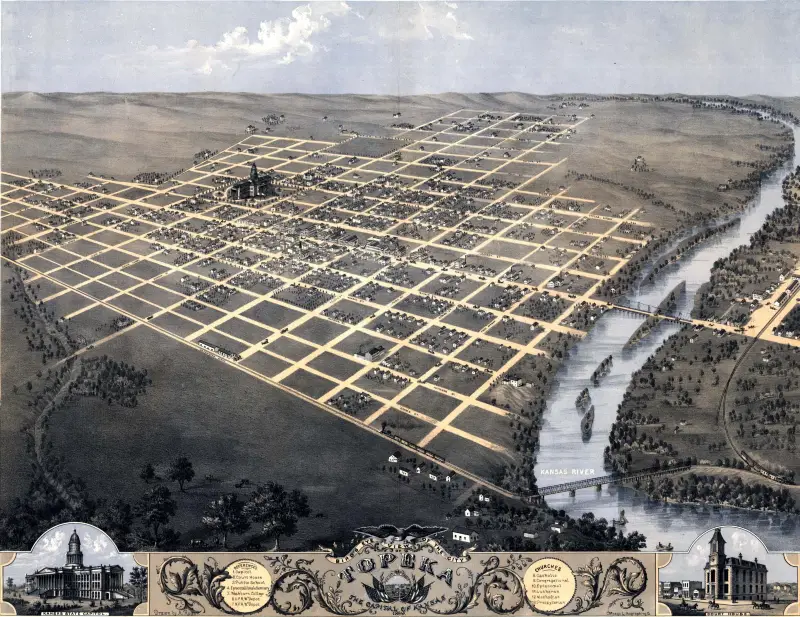 The first European inhabitants of the area were the French-Canadian Pappan brothers who married three half-Kansas Indian sisters. The families established a ferry for wagons to cross the Kansas River along the Oregon Trail at what is now known as Topeka. The first use of the name Topeka is acredited to a mixed-blood Native American named Joesph James (Joejim). In 1854, the city was laid out and then chartered in 1857.
It was founded as a Free-State city by anti-slavery easterners immediately after the passage of the Nebraska-Kansas bill. The city was under siege at one time by pro-slavery settlers. The anti-slavery and pro-slavery conflicts in the area lasted through the Civil War era. Eventually, the anti-slavery movement established itself well enough to hold the area and protect freed slaves traveling on the Underground Railroad. The city is well-known for the U.S.Supreme Court case Brown vs. Board of Education of Topeka, which overturned Plessy vs. Ferguson and declared racial segregation in public schools to be unconstitutional.
Modern Topeka
Topeka is a diverse city which supports many cultures and religions. We believe this diversity provides excellent opportunity for families to grow and experience many cultural and artistic activities in a safe environment. The city population is comprised of approximately 78% Caucasian, 12% African-American, and 10% of people in other races. The average household size is 2.94 people with approximately 25% of the city's population being under 18 years old. The median age is 37 years old. As of the year 2000, the median household income was $35,000 and the median family income was $45,000. The area provides a multitude of excellent public and private schools for all grades. Higher education institutions are also located in the area including Washburn University. The area supports many different mueseums such as the Mulvane Art Museum, Kansas Historical Museum, and many others. The video below provides some of the most popular places to visit and things to do in Topeka.